They may be poorly named but Rhode Island hot wieners are without a doubt, one of, if not the best way to have a hot dog in the entire world! A pork, veal and beef mixture topped with a special meat sauce, onions, celery salt and mustard served on a steamed bun. The combination is perfect and it would be insulting to serve it any other way(and most places will be appalled if you do).
Today we will show you how to make your own Rhode Island hot wieners. A bit more complicated than your typical hot dog, but well worth the extra effort.
Step 1: Gather Your Ingredients
You will need:
A package of hot dogs, nae, Rhode Island wieners (if you can't find those you could make any dog work I guess)
A package of hot dog buns (good luck finding it in the same qty as your dogs), not New England style, and if they are not pre-split make sure you split them.
1 pound of ground beef
1 medium onion (or 2 small onions), chopped as small as you can – divided into 2 containers (one for topping, one for the meat mixture)
3 tablespoons of Worcestershire sauce (if you aren't from New England, you probably say this wrong)
Spices that can be pre-combined

2 tablespoons of paprika
2 tablesooons of chili powder
1 tablespoon of ground cumin
1 teaspoon of ground mustard
1 teaspoon of ground cinnamon
1/2 teaspoon of ground allspice

1/3 cup of water
2 tablespoons of butter
Celery salt for topping (to taste)
Step 2: Sauté Half the Onions
Melt 2 tablespoons of butter on medium heat in a large skillet or pot. Once it melts completely, add in half of the onions we prepared before. Sauté unil the onions are tender, usually 5-6 minutes.
Step 3: Cook That Meat
Add in the 1lb of ground beef, the spice mixture and 2 tablespoons Worcestershire to the sautéed onions. Mix it all together using a slotted spatula. Cook the meat 6-8 minutes or until the beef is completely brown. While the meat is cooking, chop it up using your spatula as much as you can. One technique I like to use is pushing down on the meat with the bottom flat side so that the meat squeezes through the slots.
Step 4: Add Water and Simmer
Add the 1/3 Cup of water to the pan. Allow the mixture to reach a boil. Then lower the heat to a simmer. Allow the mixture to simmer for 30 minutes.
Step 5: Steam Buns While Waiting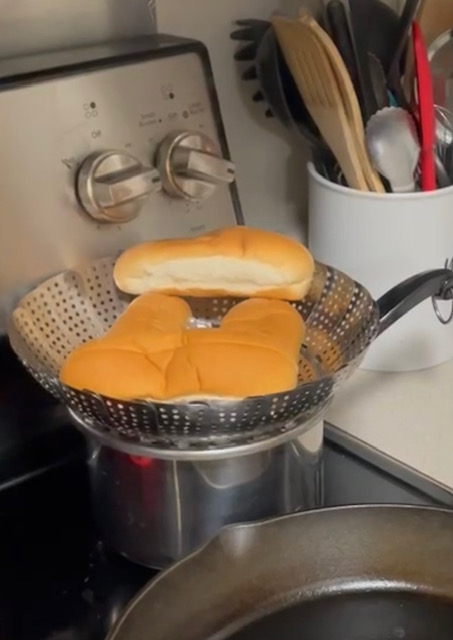 While you wait for your meat sauce to simmer, add water to whatever pot or device you would use for steaming. I used a medium size pot and an adjustable steamer basket. Heat the water on high until it starts to boil. Top the pot with your steam basket and add however many buns you can get to fit (was 4 for me). Steam them for approximately 7 minutes. Remove from heat and set aside so they cool a bit. If you wait until about there is about 15-18 minutes is left on the meat mixture, you should end up with them finished around the same time.
Step 6: Cook Wieners
While the buns are steaming and the meat sauce is simmering, add your dogs to a large-ish skillet (either cast iron or not, but I prefer cast iron). Cook on medium to medium low heat. You want to heat them quick but not too quick or they will split. These should be completely done in 5-7 minutes, but pay attention to them, they will be nicely golden brown when they are done.
Step 7: Assemble
The assembly process is super important. You don't want to lose all your toppings when you go to eat it. Start by stuffing the wiener as far into the bun slot as possible. Now fill in the empty space on top of the bun with the meat sauce mixture. Make sure it's not overflowing. Then add a few dashes of celery salt (whatever your preference is). Next, make a zig zag of mustard across the top. The final step is to add about 2 small spoonfuls of the chopped onions. Pressure everything down so it stays together. And Voila! You have made Rhode Island hot wieners.
Enjoy your Rhode Island hot wieners with Coffee Milk
Now while you are enjoying your delicious creation, pour yourself a glass of the pure Rhode Island bliss that is coffee milk. Just like chocolate milk (which I'm sure you are familiar with), but with coffee syrup instead. Simply squeeze in as much or as little coffee syrup as you want, and mix it together with milk (whole, almond, skim, whatever you prefer). You are now enjoying the perfect Rhode Island Meal.
If you would like to experience more Rhode Island treats please check out our article on the Suprisingly Great Rhode Island Foods.