It's hard to think of summer events here in the states without thinking of decorations filled with red, white and blue. Our summer is filled with patriotic events like Memorial Day, the 4th of July, and Labor Day. With lots of celebrations, comes lots of parties and places to be, and we don't always have the time to put together all the intricate red, white, and blue party theme ideas we find across the internet.
(Or if you're like me, you have the time, then procrastinate, then suddenly it's a holiday, and your grand Pinterest creation visions are dashed when you have somewhere to be in 3 hours and you need to whip something up pronto.)
Which ever category you fall into, here's a few festive red, white, and blue ideas that are easy to pull together without much hassle. If you have more time and are looking for more complex ideas, check out our other post Food Ideas for the 4th of July that are Truly Unique.
(Quick Tip: Check our your local dollar store, grocery store Christmas Tree Shop, or my personal favorite happy place- Target, for cheap red, white and blue paper goods, table cloths and fun seasonal touches to add to the theme)
Simple / Last Minute Patriotic Dishes
Fried Chicken with Red, White, and Blue Dipping Sauce
Pick up fried or grilled chicken from your local grocer or restaurant, and add some simple patriotic themed sauces
Red sauce ideas: Ketchup, salsa, barbecue sauce
Blue sauce ideas: Blueberry barbecue sauce
White sauce ideas: Ranch, blue cheese dressing, greek vanilla yogurt, simple aioli
Healthy Fruits
Since barbecues aren't typically known for being super healthy, fresh fruit is a simple way to add in color and save those calories
Fruit kebabs, fruit salads, açaí bowls:

Cut up fresh strawberries, raspberries, blueberries, blackberries, banana, pineapple
Shredded coconut
Açaí packets

Keep it really simple with a pre-packaged mix of red and blue fruits from your local grocer or farmers market, add shredded coconut)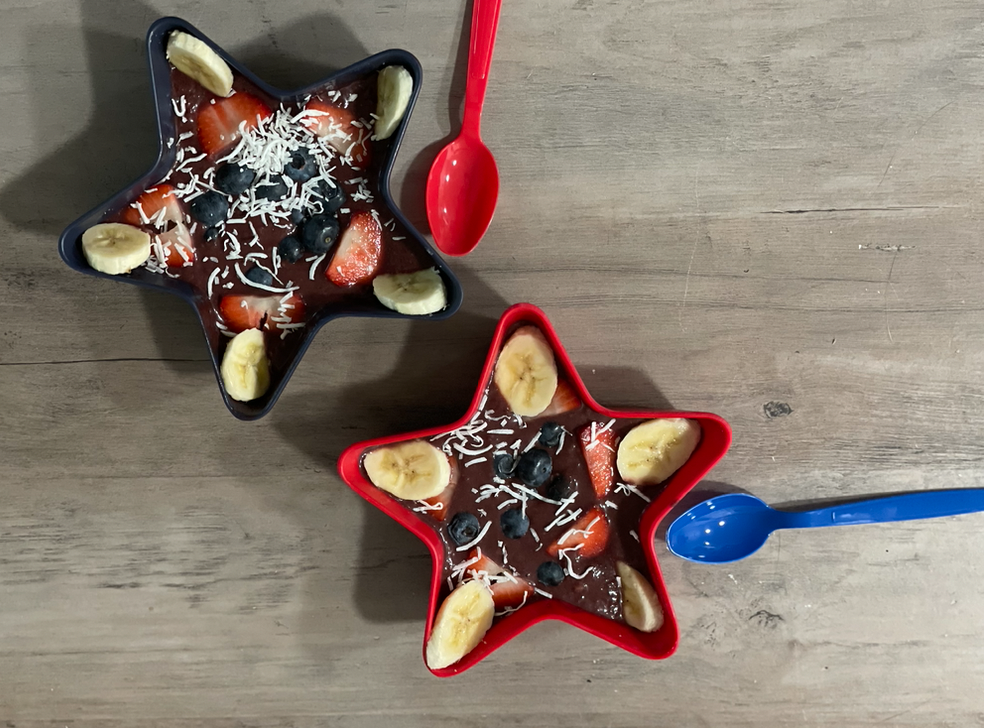 Patriotic Pizzas –
Premade doughs like naan, a premade pizza crust, or english muffins

Add tomatoes, red pepper or eggplant
I made a pizza with goat cheese, sun dried tomatoes, and blueberries..yes, blueberries. It was surprisingly delicious especially mixed with the goat cheese, (though I probably should have left off the arugula since it took away from the patriotic vibes)

Keep it really simple with a frozen pizza and simply add tomato, red peppers, pepperoni, eggplant, or blueberries (if you're feeling daring, though this probably works best with feta or goat cheese)
Keep it really really simple and get a frozen that already has pepperoni or tomatoes on it to cover the red and white and just add eggplant
This one is super simple and fast to make!
Patriotic Nachos made with blue corn tortilla chips, white corn tortilla chips, red salsa, and sour cream
Keep it really simple and skip the white corn tortilla chips and just use the sour cream
Patriotic Desserts
These can be as simple or as fancy as you want them to be:
Cookies:

Pre-made red white and blue cookies
Instant cookies with red, white, and blue candies and sprinkles

Cakes, Cupcakes, Pastries:

Use red, white, and blue frostings
Buy shortcake rounds or an angel cake and add whipped cream and fresh strawberries, blueberries, blackberries or raspberries

Pies

Pick up a blueberry pie and add strawberries and whipped cream
Or a strawberry or cherry pie and add blueberries and whipped cream

Ice Cream

Take vanilla ice cream from the carton, scoop out, and blend in blueberries or strawberries, then re-freeze
Keep it really simple with vanilla and/or strawberry ice cream with blueberries

Vanilla and blueberry ice cream with strawberries (and never forget the whipped cream)

Keep it really really simple and buy some snacks in red, white and blue packaging
Lastly, and most importantly remember to have fun with creating your simple red, white, and blue party theme ideas. Relax, and enjoy the fun!