As our tour of Rhode Island comes to a close, we thought we'd share some of the ways we incorporated RI elements into our themed hangout. For starters, we'll admit this was definitely a more comfort food related experience for us vs. unique activities. Nonetheless, we think we've laid out the perfect Lil Rhody day.
Dunks
If you're looking for the full Rhode Island experience, your first step is to go out and get yourself some Dunks (aka Dunkies, aka Dunkin). There's nothing more New England than getting coffee from Dunkin Donuts. They're on almost every corner, and a typical start to the day.
Here's Johnny!
Now that you have your Dunkin, you're going to want to skip the donuts and make yourself a Rhode Island original – Johnny Cakes. If you're not in the know, they're like if a pancake and cornbread made a baby. They're super easy to make, even Smoregan can do it (supervised of course)!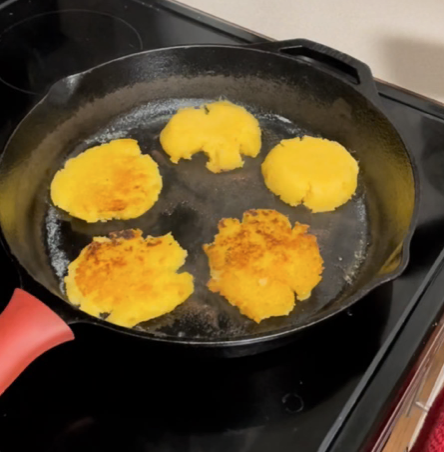 Wicked Good Lingo
So you've had your hearty breakfast and fueled up on some Dunks, which means now it's time to relax and brush up with some Rhode Island slang and town names. Looking for a way to make it more fun? Quiz your friends for who can pronounce the most town names correctly! It may sound like a lame game, but trust us, it gets pretty hilarious hearing people's interpretations.
DIY Coffee Milk!
Assuming you defeated your opponent in speaking proper Rhody, it's time for them to reward you with the official state drink, Coffee Milk. We made our own from scratch (ok fine, maybe adding coffee syrup to milk isn't exactly the gourmet cooking we should be bragging about here, but hey, at least we used the most famous, classic, OG syrup, "Autocrat")!
Sweet Treats
If you're looking for a midday treat we've got 2 sweet options. The classic local fav – Del's Frozen Lemonade, or you could make yourself a cabinet. Cabinets are what Rhode Islanders call a milkshake, the most famous being the Awful Awful from Newport Creamery. Del's Frozen Lemonade is softer than an Italian Ice, but firmer than a slushy, aka the perfect lemon-y hyrbid. We highly recommend both (although for the sake of your tummy, maybe not at the same time).
Hot Wieners All The Way!
And now, for your ultimate dining pleasure, the most amazing yet ill named Rhode Island delicacy – the hot wiener. We couldn't pass up the opportunity to make these from scratch. If you ask us, this is the absolute best way to have a "hot dog". Theres only one way to have these, and thats all the way – no substitutions allowed here.
But Wait, There's More!
We covered these and a lot of other amazing unique foods of Rhode Island, and hope you found some recipes you'll want to recreate on your own. But if these articles weren't quite what you had in mind, consider some of these options as you plan to explore Rhode Island without leaving home:
Experience Providence's famed WaterFire show from your couch: WaterFire in 4 Minutes
Order some Del's and head to the beach
Go to Dunkin
Dress in boat shoes and polos and speak like a wicked cool Rhode Islander
Quiz your friends on how to say RI names
Chill out with Family Guy
We hope we've given you a good sense of what Lil Rhody has to offer! Let us know if you try to recreate any of these meals or throw your own visit Rhode Island from home party! After all, the Ocean State may be the littlest state, but it's full of big vibes.