Giddy Up, it's a Country Concert Tailgate!
Giddy up! After a long hiatus from the pandemic, concert season is back! Live music and attending concerts have been a longtime passion of mine, and there's really no better season for live music than summer. Every concert scene has its own vibe, and that's especially true of country music, and more specifically the country concert tailgate scene.
I've seen A LOT of various artists over the years, from a wide range of genres, but there was one that was always high on my list that I kept missing: Tim McGraw.
Even if you're not a country music lover (like Matt), you've probably heard of Tim McGraw. He's been a country music superstar for decades, is married to another country music superstar (Faith Hill), and has an impressive acting history. Needless to say, I was excited that his concert was my first concert back into the scene. Matt on the other hand, was excited to tailgate.
Tailgate Tips
We tried to think outside the box on unique tailgate foods that were specific to Tim McGraw. Traditional country concert tailgate foods seemed that they were mostly hotdogs, burgers, etc. We've been doing a lot of barbecues lately, so we wanted to avoid it.
Here are some tips we came up with in prepping our tailgate:
Food and drink inspired by song lyrics
Favorite foods of the bands / artists
Foods from the band member's hometowns
Dietary restrictions of member's in the band
I tried pretty hard to think of clever menu items based off of Tim McGraw's song history, but I kept coming up short. Instead, we decided to make some recipes based on his diet. Tim has been pretty vocal about his intense fitness and paleo diet in recent years. So we went with it and made paleo friendly wings, steak tips, and roasted potatoes. We also made a cucumber salad, and since we're snackers, found some Paleo puffs. Since we knew we'd be short on time, we prepped and made everything ahead of time (starting the night before).
We did cheat on one menu item though. Tim McGraw doesn't drink alcohol anymore, and we know it's not paleo…but…it's still a summer tailgate, so we bent the rules a little.
Recipes we used for inspiration: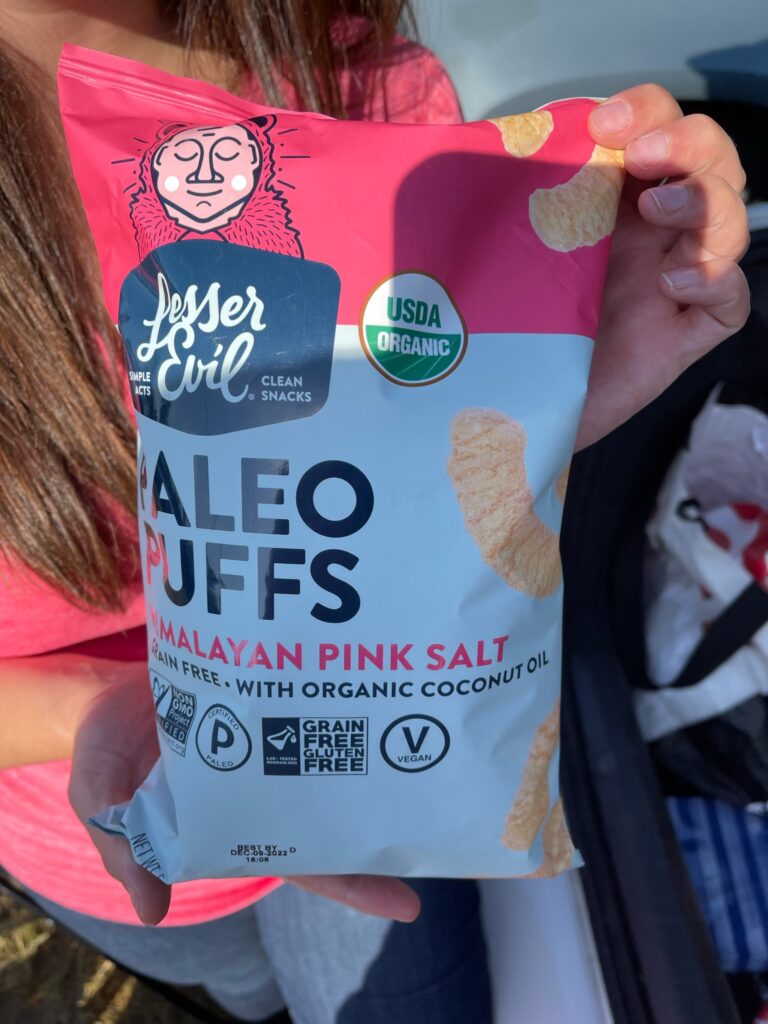 Our original plan:
Create a country concert tailgate menu based on Tim's songs and lyrics
Bring our small grill and make food at the tailgate venue
Use a small speaker to listen to music
Setting up our cooler in our trunk to easily reach in and get food / beverages
Bring a corn hole set
What we did instead:
Created a menu based on Tim's paleo lifestyle
Made all our food ahead of time at home, starting the night before
Assumed (accurately) there'd be plenty of others tailgating playing music
Realized our cooler wouldn't open in the trunk, so we used it as our table and set up our food in the trunk
Played music trivia on our phones
Tips for planning a custom tailgate:
Plan ahead of time!

Remember your tickets!
How are you getting to the event?
Does the venue allow for tailgating?
How long are you going to be there?
What is the bathroom situation? (assume: porta-potties)
Choose a Designated Driver or use Ride-share services (most venues today have designated ride-share areas).
Bring camping chairs or a blanket
Bring paper plates, utensils, and a trash bag
Have snacks and water for after the concert.
Bribe your significant other or friends to go with you with an aisle seat.
Know the Vendor's Rules:

I brought a pretty small bag with me, but got turned away for it being too large. Double check what you're allowed to bring in with you.
Choose a Menu:

Food and drink inspired by song lyrics
Favorite foods of the bands / artists
Foods from the band member's hometowns
Dietary restrictions of member's in the band

Choose Entertainment:

Charge and bring a stereo
Bring lawn games (corn hole, pong, cards, can jam etc)
Play a Trivia game based on the band and genre
Choose outfits based on the bands or genre

Have fun!
Do you have any good tailgating tips or experiences you've had? Let us know!